The Southborough Senior Center is publicizing its events for January and February. Entertainment in store for seniors includes game-play, movies and some binge-watching.
Please sign up to attend any of the following. 508-229-4453 or stop by the front desk.
Tune Time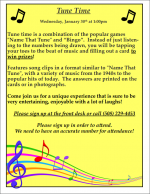 On Wednesday, January 30th at 1:00 pm, seniors can play a game that's described as a cross between Name that Tune and Bingo:
Instead of just listening to the numbers being drawn, you will be tapping your toes to the beat of music and filling out a card to win prizes!

Features song clips in a format similar to "Name That Tune", with a variety of music from the 1940s to the popular hits of today. The answers are printed on the cards or in photographs.
(Click on flyer for more details.)
Matinees
The center will be showing the popular musical "Mamma Mia" and its sequel "Mamma Mia – Here We Go Again". The movies will be screened on Wednesdays, January 23rd and February 13th at 1:00 pm. Snacks will be provided.
(Click on flyer for more details.)
The Crown
The Center will be screening episodes from the second season of the popular Netflix series – two at a time. The ten episodes will be shown on Fridays, January 18th – February 15th.
At each date, the first episode will be shown at 12:30pm, followed with a break for refreshments and then the second episode will begin approximately 2:00 pm.
The flyer promises that you don't need to see the first season to enjoy it. But they offer those who missed it a chance to catch up – by borrowing a copy of the center's DVDs.
(Click on flyer for more details.)