This weekend, Symphony Pro Musica is holding two performances of its 2nd concert of its 36th season. Once again, one of the performances will be held in Southborough at St. Mark's School.*
The concert is titled "Knights and Wizardry". It will feature a special solo by "rock star" Carlos Aguilar:
The evocative flute soloist Aguilar performs the brilliant and emotional Khachaturian Flute Concerto.
But it's not just about the guest performer. The entire symphony, led by Music Director Mark Churchill, will perform works by Wagner. It looks like one of those is the inspiration for the concert title:
Symphony Pro Musica also performs Parsifal—An Orchestral Quest, by Wagner/Henk de Vlieger. Parsifal is considered Wagner's crowning achievement, based on the story of the Knights of the Holy Grail. Wagner's The Flying Dutchman Overture rounds out the program.
The in town performance is this Sunday, January 20th at 3:30 pm in the school's Putnam Family Arts Center. (Click here for the campus map.)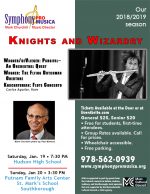 For some attendees, the tickets are free, for others there is a fee:
First time Symphony Pro Musica patrons may attend either of the performances at no charge, and students are always free. Adult tickets are $25, senior tickets are $20, and group rates are available.
You can purchase tickets online here. Tickets are also available at the door.
Symphony Pro Musica promotes that it "brings outstanding and affordable orchestral, choral, and operatic music to Hudson, Southborough, and the surrounding communities." (You can learn more about the group by visiting www.symphonypromusica.org, calling 978-562-0939, or emailing spmoffice@symphonypromusica.org.)
*If you can't make Sunday's concert, you can head to Hudson High School on Saturday night for its 7:30 pm performance.