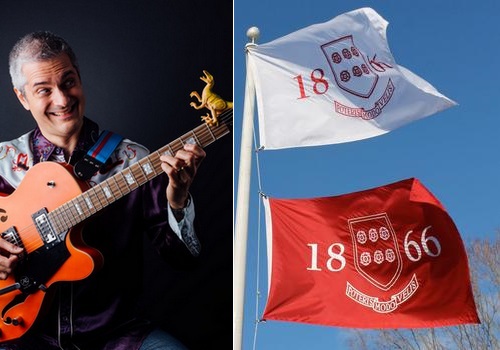 Fay School is hosting another fun, free event for young ones this weekend. The February session of Saturdays at Fay features a "Toddlerbilly" concert (rockabilly for toddlers). Fay School promotes:
This session will feature children's musician, Matt Heaton, for a rocking concert with singalongs and lots of dancing. Matt's songs are a mix of rockabilly, surf, American roots, and Irish traditional music, delivered with a wry sense of humor and a sincere sense of fun.
The monthly Saturdays at Fay series is designed for children aged 6 and under along with their parents. Events are open to the public, but pre-registration is required.
Heaton promises that his event is fun for parents as well as kids. His website promotes:
Children and adults respond to his musicianship and variety. The adults in the room particularly appreciate the Muppet-esque touches of humor and observations of kid behavior. Whether you call it children's music, family music, kindie or toddlerbilly it's sure to please listeners of all ages.
The concert is this Saturday, February 2 from 10:00 – 11:00 am at Fay School's Primary School, 23 Middle Road. (Click here for the campus map.)
Space may be limited so please visit fayschool.org/saturdays to register.
And save the following dates for upcoming shows:
March 9 – Jungle Jim's Superhero Training
Join Jungle Jim and learn what it takes to be a true superhero! During the program, the audience will be transformed into traditional superheroes, and it will conclude with a discussion about the heroes in our daily lives. Jungle Jim has been entertaining families and children in New England for over a decade and his performances are high-energy and a whole lot of fun!
Registration opens February 11
April 6 – Mr. Magic's Magic Show
Mr. Magic has been performing magic shows for 35+ years and has developed a dynamic repertoire that amazes young and old alike. His show is highly visual, and children can participate throughout the performance. Children will also get to meet Mr. Magic's animal assistants, Fluffy, Hocus, and Pocus.
Registration opens March 11