The Southborough Education Foundation is putting on its 2nd annual Family Feud Night. The event pits teachers and staff from Finn and Woodward school against each other for competitive fun.
The SEF fundraiser will take place on Friday, March 15th at Trottier Middle School.
The event replaces SEF's previous biggest annual fundraiser, the spelling bee. That means its the event where you can find SEF's annual Silent Auction and basket raffle. The doors open early for that at 5:30 pm. You can also buy pizza and snacks before the show.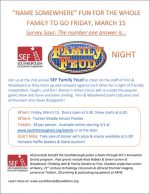 The on stage fun begins at 6:30 pm. SEF invites:
Join us at the 2nd annual SEF Family Feud to cheer on the staff of Finn & Woodward as they team up and compete against each other for a night of friendly competition, laughs, and fun! Boston's Urban Circus will re-create the popular game show and leave everyone smiling. Finn & Woodward team costumes and enthusiasm also never disappoint!

Tickets $8 each – buy at the door or online: www.southboroughed.org/events

Doors open at 5:30 for sale of pizza & snacks and tickets for raffle baskets. They will also have the annual SEF Silent Auction!

All proceeds benefit the Southborough public schools through SEF's Innovation Grants program.