It's your annual reminder to save the date for Southborough's NON-event. Starting this year, "Southborough UNscheduled" will take place in April. So mark Thursday, April 11th on your calendar.
On that day, Southborough Youth and Family services asks everyone to clear the evening to spend family time. As they've done for the past few years, SYFS is also asking everyone to "Unplug" that night from individual screens.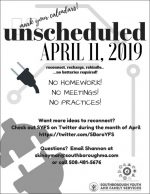 The night is meant for families to take time together to unwind and catch up.
On that day, the schools agree not to assign homework, town leagues avoid practices, and Town committees and organizations agree not to hold meetings.
Adults are encouraged to leave work in time for a family dinner, cancel or reschedule evening meetings that take place outside of Southborough, and make this a special night for the entire family.
Looking for different things to do?
SYFS previews that they'll be tweeting out ideas next month. In the meantime, here are some from past years:
Have a relaxing dinner together. Maybe you can even cook one together. Maybe you can eat it backwards, starting with dessert.
Make it a Family Game Night. (You don't even need to own a game. I found some ideas here. I'm sure a quick google will pull up more ideas.)
Borrow travel books from the library and plan a family vacation.
Have a Lego building session.
Start a family scrapbook.