Girls Lacrosse is looking to recruit more young players this season. To encourage girls in grades 1 and 2 to give the sport a try, the Northborough Southborough league is inviting them to a free clinic this weekend.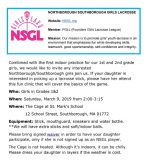 The clinic will be combined with a practice being held Saturday, March 9th from 2:00 – 3:15 pm at St. Mark's School, 12 School Street at "The Cage" by the ice rink. (Click here for the campus map.)
Play will take place in an unheated and "sometimes chilly" space. So, girls are encouraged to dress in appropriate layers. They should also come with a mouth guard, sneakers, and water bottle.
If they already have a stick they can use, they're encouraged to bring it. But extra sticks soft/indoor balls will be on hand.
Girls are also asked to come with a signed waiver. But the forms that I found had broken links to that form.
I did find this "bring a friend" waiver for participating in NSGL events on their website. (NSGL confirmed it's the correct form. They'll also bring along a few copies for people who show up without one.)
You can find more information on NSGL here. You can also find more in in their registration pitch to families for this season here. (Note that the flyer from fall shows deadlines have clearly passed for the older grades.)
Updated (3/8/9/19 2:28 pm): I got confirmation that I had the link to the right waiver form.