During the 2017-18 school year St. Mark's School students and the Southborough Library teamed up to offer free tutoring to kids. Due last August's flood, the Library didn't have space to host that again last fall and winter. Now that the downstairs is refinished, the program is back.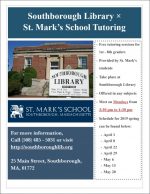 The free, drop-in program is offered to 1st – 8th graders. It returns next week.
The program runs on Monday afternoons from 3:30 – 4:30 pm for 7 weeks (April 1 – May 20).
Last year, the tutors said they were happy to help kids tackle "school work in any subjects including all levels of math, foreign languages (Spanish and French), science, writing, and reading practice (for younger students)."
Community Service Program coordinator Lee Wells previously shared on Facebook that students running the program:
are happy to be "homework coaches" as well as tutors. So if your son or daughter doesn't really need any specific subject help, but just needs a little help staying on task and getting the homework done, then these students would be happy to help. Please take advantage of this program.
Last spring, Wells explained to me that the program was initiated by a St. Mark's student (Selina Wu) along with fellow students also experienced at helping children through other volunteer programs. (Since the Library's program ran most of last year, some of those volunteers have even more experience under their belts this time around.)
If you have questions about the program, you can call the Library at 508-485-5031 or email Selina Wu at qianqianwu@stmarksschool.org.