It's the time of year when residents are starting to work in their yards. SOLF wants residents to be armed when they do.
Knowing how to spot invasive insects that could devastate area trees is important for protecting your yard and the greater area. Of biggest concern to the Southborough Open Land Foundation is are the Asian Longhorned Beetle, Spotted Lanternfly, and Emerald Ash Borer.
The group is teaming up with the Library to educate the public. Next week, you can learn about how to identify those bad bugs and/or spot their signs.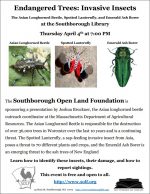 A presentation will be held at the Southborough Library on Thursday, April 4th at 7:00 pm.
Here are more details from SOLF:
On Thursday April 4, 2019, the Southborough Open Land Foundation will sponsor a presentation by Joshua Bruckner on Invasive Insects Threatening Massachusetts Trees. The talk will focus on the Asian Longhorned Beetle, the Spotted Lanternfly, and the Emerald Ash Borer, The Asian Longhorned Beetle is responsible for the destruction of over 36,000 trees in Worcester over the last 10 years and poses a continuing threat to trees of our area. The Spotted Lanternfly, a sap-feeding invasive insect from Asia, poses a threat to 70 different plants and crops, including apples, grapes, and hops.

The Emerald Ash Borer is an emerging threat to the ash trees of New England. The presentation will cover what is being done to combat these invasives, how to identify the insects and their damage, and how to report any sightings.

Joshua Bruckner is the Asian longhorned beetle outreach coordinator at the Massachusetts Department of Agricultural Resources. He works to spread information and awareness about the Asian longhorned beetle and other invasive insects in Massachusetts. He has a masters and bachelor's degree in environmental science from Clark University.

The program will be at the Southborough Library, 25 Main Street, Southborough, 7:00PM.

This event is free and open to all.

For more information visit the SOLF website: www.solf.org