Registration is open for Jr. T-Hawks Northborough/Southborough Youth Football and Cheer.
The new season will kick off at the end of July. But to qualify for the early bird rate, you need to sign kids up by April 30th.*
To help parents make the call on signing up, NSYFCA is holding an Info Night the night before the deadline.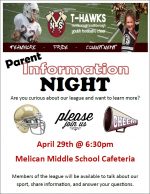 Parents Information Night at Algonquin is Monday, April 29th, from 6:30 – 7:30 pm at Melican Middle School. Representatives from both football and cheer will be there to share important details and answer questions.
This year, the Jr. T-Hawks tackle football is only open to grades 2-7.**
They also offer "Flex Flag Football" for grades K-3.
The football programs are open to girls, and some do participate. More sign up to be Jr. T-Hawk's Cheerleaders, open to ages 8-14 (based on ages as of July 31st).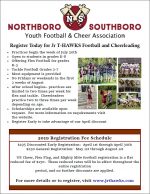 To learn more about the program see the flyer right or click here.
*The early bird deadline is for tackle football grades 2-7 and cheerleading divisions 9-14. U8 Cheer, Flex Football, and Mighty Mites (tackle for grade 2/3) have flat reduced fees, not effected by reg dates.
**Wondering about 8th grade? The league announced that with too few 8th graders over the past few years, they can no longer field an 8th grade T-Hawks team:
If your child is interested in playing for this grade, please contact our President Doug Pulsifer (nspredsident@jrthawks.com) or our VP of Football Julie Stanwood (nsvpfootball@jrthawks.com). If we have enough interest we will open registration for that grade or our league can contact other towns (Westborough, Shrewsbury, or Marlboro) to see if they have a spot for your player.