If you are (or ever have been) the parent of a teen, you're probably not surprised by the message that teen's brains and emotions are complicated. The bad news is that Southborough Youth and Family Services seem to be saying the situation has gotten and is getting worse. The good news is that the agency is reaching out to help us help them.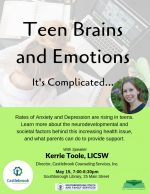 Next week, the agency is bringing in a counselor to talk to parents. The event will be held at the Southborough Library on Wednesday, May 15th at 7:00 pm:
Teen Brains and Emotions: It's Complicated

Rates of anxiety and depression are rising in teens. Learn more about the neurodevelopmental and societal factors behind this increasing issue, and what parents can do to provide support.
Kerrie Toole, Director of Castlebrook Counseling Services, will speak to parents about "adolescent self-harm/suicidality/coping strategies for young people" and answer questions.
The event is part of SYFS Mental Health Awareness Month series.