Southborough Little League is holding a Movie Night in a few weeks. The public is invited to join them.
The movie follows the annual Home Run Derby festivities. It all takes place on Saturday, June 1st at Eric Green Field (baseball fields at Finn School).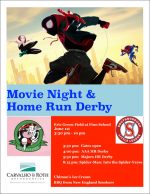 For those of you playing in the derby or coming to cheer contestants on, the schedule is:
3:30 pm: Gates open
4:00 pm: AAA Home Run Derby
5:30 pm: Majors Home Run Derby
During the event, you can buy BBQ dinner (via New England Smoker Rentals) and dessert from Uhlman's Ice Cream.
At 8:15 pm, the movie Spider-Man: Into the Spider-Verse will be projected on the big screen.
The festivities are sponsored by Carvalho & Roth Orthodontics.