When WGBH contacted me about Southborough's Labyrinth Choir singing on Sing That Thing! this spring – I questioned if it really was a based in our town. I found evidence of performances around New England and Europe, but it didn't appear they had held a concert in Southborough. That's about to change.
The group will perform on the St. Mark's School stage on Sunday, June 2nd. The public is invited to join them. Tickets are $25 per adult, $20 per senior, and free to students and children.
[Editor's Note: I know, I posted that this weekend's Hermitage Piano Trio concert is the last in St. Mark's "Southborough Sounds" series. That's true. This concert isn't part of the school sponsored series. It takes advantage of the venue, but is sponsored by Southborough Cultural Arts Council.]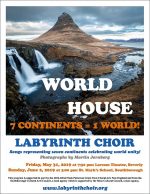 The Southborough concert is one of two performances the group will give of their "World House" concert. As a backdrop, a slideshow of gorgeous photos from around the globe will highlight the theme of world unity. Reinforcing that theme, the audience will be asked to sing-a-long to the final number:
WORLD HOUSE: 7 Continents = 1 World!

A Concert on Sunday, June 2, 2019 at 3:00 pm in The Class of 1945 Hall, Putnam Family Arts Center, St. Mark's School

Labyrinth Choir, a professional vocal ensemble based in Southborough, will celebrate world unity by singing songs from seven continents. The concert has been inspired by a Rev. Dr. Martin Luther King, Jr. quote: "We have inherited a large house, a great "world house" in which we have to live together."

World traveler and photographer Martin Jernberg is collaborating with us to highlight the spectacular beauty and prolific diversity of the world. The audience will be invited to join us in the singing of our finale–the Jackson/Ritchie hit song "We Are The World."

This concert is supported in part by a grant from the Southborough Cultural Arts Council, a local agency which is supported by the Mass Cultural Council, a state agency. Please join us for an uplifting musical event!
The group shared a preview of singers' voices and photos that will be featured via the promotional video below:
Updated (5/16/19 1:31 pm): I added the admission prices.