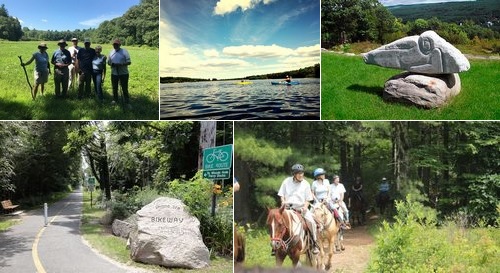 The Trailblazers are at it again. The Senior Center's group for active seniors has planned more fun outings over the next few months. Almost 20, in fact.
Offerings cover more hikes, biking/walking a Cape Cod trail, exploring outdoor art, and a horseback ride. Plus, summer boating is back with 13 chances to kayak, paddle board, peddle boat, or canoe at Hopkinton State Park this summer. The hikes and biking are free. Other activities come at a suggested donation price ranging from $3 – $40.
The horse ride and boating each have limited participation, so pre-registration is especially important. But signup is requested for all of the outings. You can stop by by the Senior Center front desk or call 508 229-4453.
Below are the broad strokes. If you are interested in joining them, you should check out important additional details from their flyer. Click on the image below right or open the full pdf flyer.
Old Farm Trail Hike
Wednesday, May 22nd, 9:30 am
Carpool from the Senior Center for an about 1 hr walk and history talk, followed by a hot dog cookout. Free.
Andres Institute of Art, Brookline, NH
Thursday, May 30th, 9:30 am
Bus trip to the sculpture park for an about 1½ hr hike (including a steep, rocky incline) followed by a picnic lunch. Donation: $20
Shining Sea Bike Trail, Cape Cod
Monday, June 3rd, 9:00 am
Carpool to the Bike Ride/Walking Trip. Free.
Hopkinton State Park Boating
Tuesdays June 4th – August 27th, 9:45 am (Wednesdays rain date)
Meet at Hopkinton State Park Boating area to boat for an hour. Capped at 8 participants per session. Donation: $3 per session (plus possible parking fee – see flyer)
Bay Circuit Trail Hike
Thursday, June 13th, 9:30 am
Hike the next 2 mile section of the Bay Circuit Trail. Free.
Horseback Trail Ride, Princeton, MA
Thursday, June 20th, 9:30 am
Carpool to Cornerstone Stables for an about 1 hr trail ride, followed by lunch. Maximum of 12 participants. Donation: $40