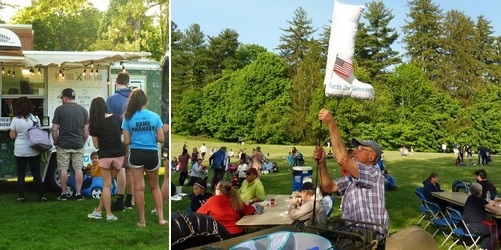 Here are highlights of what's happening around town this week. (It's a short but busy week!)
[Note: The highlights don't include ongoing weekly programs. For those listings and more, check the Event Calendar.]
Tuesday, May 28, 2019
Poetry Workshop (6:30 – 8:30 pm) @ Southborough Library, Main Level: At the semi-monthly sessions, everyone is asked to bring in five copies of their original poetry for supportive feedback. If you don't have a poem, come and share your insights.
Neary & Trottier Orchestra Concert (7:00 – 8:30 pm) @ Trottier Middle School auditorium
Wednesday, May 29, 2019
Food Truck Festival (3:30 – 7:30 pm) @ St. Mark's meadow (corner of Rte 85 and Rte 30): 2nd of the 5 part series by the Southborough Rotary Club this spring. They are bringing in five food trucks (four selling dinner and one selling ice cream).This night features: The Grub Guru, Streat Food Rx, Pangea Cuisines, Say Cheese, and Trombetta's Farm Ice Cream. Plus live music provided by Southborough Cultural Arts Council and Fill-The-Jeep with socks for Veterans service project. For details, see dedicated post.
ARHS Pops Night (7:00 pm) @ Algonquin Regional High School: Come enjoy our year end musical celebration featuring all of the school's instrumental and choral ensembles, The gym is transformed into a "Boston Pops" style venue. Tickets $10 ea. This event is the fundraiser for the Northborough Southborough Music Association.
Library Strategic Planning Forum (7:00 – 8:00 pm) @ Southborough Library, main level: The forum is open to the general public and you do not need to have attended the first forum to participate. Help revise the Southborough Library's mission statement and provide feedback that will help to update the FY15-FY20 Southborough Library Long Range Strategic Plan.
Thursday, May 30, 2019
Art Institute Hike (9:30 am – 12:00 pm) @ Meet at the Senior Center to take the bus: Event for active seniors organized by the Southborough Senior Center's Trailblazers group. Andres Institute of Art. Travel to Brookline, NH, sculpture park on 140 acres. Pre-register at 508 229-4453. For details, see dedicated post.
Beyond The Art Classroom (6:00 – 8:30 pm) @ Southborough Library, Main Level: Southborough Cultural Arts Council's exhibition featuring past Southborough students and their teachers. Experience the many unique installations of 20 artists and meet each artist during the "Artist Stroll." Refreshments provided. For details, see dedicated post.
Celebrate Wellness (7:00 – 8:30 pm) @ Community House, 28 Main St: In honor Mental Health Awareness month, Southborough Youth and Family Services is holding this special reception and family/community art show. The evening will include live music, refreshments and presenting the Laurie Sugarman-Whittier Wellness Award. Free and open to the public, but with a suggested donation of $5 to Friends of the Southborough Youth Commission. For details, see dedicated post.
Neary & Trottier Chorus Concert (7:00 – 9:00 pm) @ Trottier Middle School auditorium
Saturday, June 1, 2019
Car Wash & Bake Sale – for youth mission (8:30 am – 4:00 pm) @ Transfer Station: Support St. Mark's Church Youth Group and Youth Mission Trip to South Dakota – Come get your car squeaky clean and enjoy some homemade baked goods! St. Mark's Episcopal Church will host a combined car wash and bake sale fundraiser event. Cost is $8.00 for a car wash but additional donations are also welcomed. This event will not only help us to serve our neighbor by washing cars but will help us afford to do larger service projects. This summer the church's youth group is traveling to Lake Traverse, South Dakota for a week of service and cross cultural work with the Lakota Sioux tribe. Please contact Melissa LaBelle tobeslabelle@mac.com or Diane Root diane.e.root@gmail.com for more information on this fundraiser.
Movie Night & Home Run Derby (3:30 – 10:00 pm) @ Eric Green Field (Baseball field at Finn School): Southborough Little League is hosting its annual fun community event. All are welcome. Home run derby's followed by outdoor screening of Spider-Man: Into the Spider-Verse. For details, see dedicated post.
Shir Joy Chorus "Songs from the Heart" (7:00 pm) @ Congregation B'nai Shalom, 117 E. Main Street, Westborough: Shir Joy Chorus will present its Spring Concert, "Songs from the Heart: Timeless Traditions in Jewish Music" Tickets $15, online at www.shirjoychorus.com, or at the door. This concert of Jewish music will include part songs, rounds, and a sing-along.
Sunday, June 2, 2019
"World House" concert (3:00 pm) @ The Class of 1945 Hall, Putnam Family Arts Center, St. Mark's School: Labyrinth Choir, a professional vocal ensemble based in Southborough, will celebrate world unity by singing songs from seven continents. This concert is supported in part by a grant from the Southborough Cultural Arts Council. For details, see dedicated post.