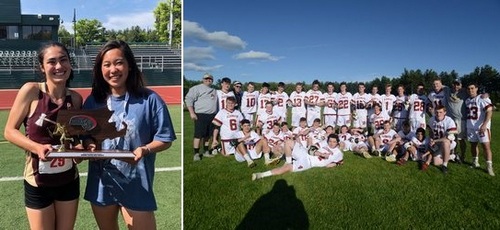 Another Algonquin varsity team is joining the post-season fray.
Brackets are out for Boys Volleyball. The T-Hawks will enter the first round of district tournaments this Friday. The 4th seed team will play 13th seed Lincoln-Sudbury Regional on Shrewsbury's court.
Over the long weekend, both Gonk Boys and Girls Outdoor Track finished 2nd place at the MIAA Central/West Division 1 Championships. There were a whole lot of impressive performances, including the following top three finishers:
1st place – Tess Reyes for 1 Mile Run
2nd place – the Boys 4×400 Meter Relay team (Alex Lemieux, Alex Rybarczyk, Tom Haugen, and Matt Madamba), the Girls 4×800 Meter Relay team (Shannon Judge, Julia Kardos, Kaitlyn Desio, and Anna Long), Austin Mowry for Boys High Jump, John Bai for Boys Pole Vault, and Rai Ann Bu for Girls Pole Vault,
3rd place – the Girls 4×100 Meter Relay team (Christina DeFeudis, Danielle DeFeudis, Grace Madden, and Day Ruffo), Alex Lemiux for Boys 200 Meter Dash Finals, Day Ruffo for Girls 200 Meter Dash Finals, Matthew Madamba for Boys 400 Meter Dash, Alexander Rybarcyk for Boys 400 Meter Hurdles, Brett Kush for Boys High Jump, Tess Reyes for Girls 800 Meter Run, and Kaitlyn Desio for 2 Mile Run
Those athletes qualified to head to Westfield this Saturday to compete in the All States Outdoor Track Championship (plus the Boys Pole Vault Championship on Thursday). You can check out the Telegram's photo highlights from the district tournament here.
Some teams spread their own photos and news via social media. The Boys Lacrosse team tweeted that they earned the title of League Champs. The co-op team of Westboro and Algonquin Girls Golf tweeted that they won the North Sectional Championship with a combined score of 382.
The Telegram followed up on the Girls Tennis' earlier wins, focusing on the team's dedication and togetherness. Plus the paper took a look at the fact that Algonquin is the only public school in Central Mass with varsity rugby programs.
Now, here are the ARHS varsity games on tap for the remainder of the week.
(To find a complete schedule of Algonquin sports, including JV, freshmen, and unified match ups, click here. Follow these links for the Assabet sports schedule and the St. Mark's sports schedule.)
Have a photo of your favorite team in action to share? Email mysouthborough@gmail.com.
Wednesday, May 29, 2019
4:00 pm – ARHS Baseball vs. Hudson Public Schools @ Hudson High School
4:00 pm – ARHS Softball vs. Hudson Public Schools @ Hudson High School
4:00 pm – ARHS Girls Tennis vs. Longmeadow @ Algonquin
4:00 pm – ARHS Boys Tennis Game vs. Brookline @ Brookline High School (Venue: Waldstein Park 1 Strathmore Road, Brookline)
5:30 pm – ARHS Boys Lacrosse vs. Nashoba Regional High School @ Algonquin (Stadium Field – senior nite!)
Thursday, May 30, 2019
3:30 pm – ARHS Boys Tennis Game vs. Groton-Dunstable Regional @ Groton-Dunstable Regional High School
Friday, May 31, 2019
4:00 pm – ARHS Boys Rugby vs. Lincoln-Sudbury Regional @ Lincoln-Sudbury Reg.
4:00 pm – ARHS Softball vs. Notre Dame Academy – Worcester @ Notre Dame Academy-Worcester
4:00 pm – ARHS Boys Volleyball vs. Lincoln-Sudbury Regional @ Shrewsbury (First Round of the MIAA Central Mass Division I tournament)
5:00 pm – ARHS Girls Rugby vs. Lincoln-Sudbury Regional @ Algonquin
Saturday, June 1, 2019
3:00 pm – ARHS Girls Outdoor Track MIAA All State Championships @ Westfield
3:00 pm – ARHS Boys Outdoor Track MIAA All State Championships @ Westfield