Southborough Cub Scouts are hosting an information and registration session at Finn on Wednesday, June 5th, 6:00 – 8:00 pm.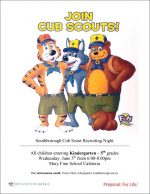 This recruiting event has traditionally been for families with boys of Cub Scout age. Last year, that age range expanded down to include kids entering Kindergarten in the fall. And in 2018, girls were also allowed to join.
The flyer now welcomes all children entering Kindergarten – 5th graders.
The info session is mostly geared to the parents. It's a chance to ask questions, learned what's involved, and to sign up.
Expect to hear about fun activities scouts can participate in through the year. Those include camping trips, optional overnight adventures and the annual Pinewood Derby – where scouts make their own wooden cars to race.
A lot of attention is paid to recruiting the at the youngest level of Scouts (incoming Kindergarteners and first graders). But they also encourage older kids who haven't been involved to consider joining their peers.
For more information, you can email Victor Hart at info@pack1.southborough.ma.us.