As the Rotary Club's spring series winds down, the SYFS summer series will be kicking off. This year, there was an accidental overlap on June 12th. Rather than making the community choose between the two venues, organizers partnered up.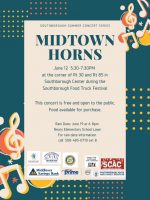 On Wednesday, June 12th, the final night of the Food Truck Festival will host the first night of Southborough Summer Concerts. The Midtown Horns will be the featured act.
The food trucks will begin selling their fare at 3:30 pm. The band will start playing at 5:30 pm. Both events will run until 7:30 pm.
The combined festivities will take place on the St. Mark's meadow at the corners of Routes 30 & 85.
The remainder of the concert series will be at its regular venue. That's the outdoor stage on the Neary School field. (That's also true of the first concert if it gets postponed for rain.)*
Future concert dates are biweekly on Wednesdays from 6:00 – 8:00 pm:*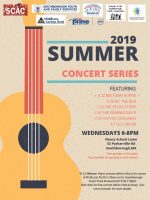 June 26 – Hit the Bus
July 10 – The Regulators
July 24 – The Reminiscants
July 31 – Paxton Crossing
August 7 – Slo Grass
Don't forget that in between now and then, the 3rd night of the Truck Festival takes place on June 5th. (As of writing this, the food line up wasn't announced, but you can check Rotary's Facebook page for updates.)
The concerts at Neary will also feature food vendors, just not as many. (Rotary has been bringing in 5 trucks each week.)
Meanwhile, the Rotary festival has been featuring singers this year, just not full blown concerts. (And the Midtown Horns really do blow – in a good way. The band features several members on trumpet, trombone, or sax. You can check out their performance from last summer's series here.)
The Rotary Club's series includes tables and chairs. But those are limited. Some families have been bringing picnic blankets to make a night of it.
For the Neary fields, bringing your own blankets or chairs is a must, as tables aren't available.
*Each concert's rain date is the following Wednesday. To check for postponement, call 508-485-0710 ext 8 on the day of the scheduled concert. (Although, when I'm aware of a cancellation, I'll be sure to post the news.)
Updated (5/31/19 11:20 am): I forgot to include that the future concerts are at the regular times of 6:00 – 8:00 pm.