Apparently, the Southborough Food Pantry isn't well stocked for entering summer. Meanwhile, donations tend to drop off while school is out, even though the needs of the families it serves remain the same.

Enter Lisa Braccio, the successful organizer of past collection drives for the troops (like the one pictured right) and disaster victims.
Braccio is organizing a "Summer Food Drive" collection for this Saturday, June 8th:
After finding out donations were down leading into summer at the Food Pantry, I knew we could help as only Southborough can!

A couple items on the list can make a huge difference to those going through challenges in their life. To know that something so little has the power to change someone's day/life is humbling. We are blessed to live in a Town that has always given from their heart and I ask once again for your help. Remember no donation is too small.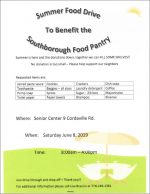 The event will take place between 8:00 am – 4:00 pm.
Please don't head to the church/pantry that day.*
Instead drive your donations to the Southborough Senior Center/Cordaville Hall, 9 Cordaville Road. Volunteers will be waiting there for your drop offs.
For a list of requested items, check out the flyer right.
And don't forget to check the expiration dates before you load up the car!
*If you can't make it out to the drive on Saturday, don't forget you can still make your donations any time. Click here for details.