As I've previously posted, the Town plans to hold an open house to celebrate the new Public Safety Building on Saturday, October 26th. They've put out an official Save the Date notice for a ribbon cutting ceremony that day.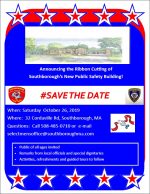 Not surprisingly, the announcement promises "remarks from local officials and special dignitaries". There will also be activities, refreshments, and guided tours. The event is for all ages.
Specific hours and other details are still to be determined.
Anyone with questions is directed to contact the Board of Selectmen's office at 508-485-0710 or selectmensoffice@southboroughma.com.
The October event doesn't mean that there has been a big delay in the completed project. Mid fall was chosen to allow the safety departments ample time to move in and settle in to their new digs before opening the building up to public tours.