You can take it slo heading out to tonight's summer concert. In fact, you should wait a whole week.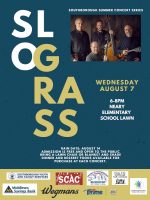 With thunder clapping in town this afternoon, it's no surprise that the SloGrass concert is being postponed. The entertainers are now set to play on Neary's outdoor stage next Wednesday, August 14th.
As usual, the community is invited to the free concert from 6:00 – 8:00 pm. You can bring a picnic or buy dinner to enjoy on the lawn. Pangea Cuisines and Uhlmann's Ice Cream trucks will return.
I hadn't actually shared details about the featured act yet. So, I'll do that now.
The 4 member group specializes in:
a unique brand of acoustic Americana; with lively instrumentals featuring banjo, dobro, mandolin, guitar & acoustic bass; with vocal selections showcasing rich 2, 3 & 4 part harmonies
So, what does that sound like? WorcesterWired posted a video of the men in concert back in 2011:

On Facebook, the band shared its 30 year history of entertaining New England:
The seeds of SloGrass were sewn in the summer of 1989 when Dave, Mark and Fran started getting together once a week to play fiddle tunes for fun and a musical challenge. In the summer of 1993, Bob officially joined the band as its heartbeat on the standup bass.

SloGrass plays a mix of vocal and instrumental songs, drawing on various traditions including Bluegrass, Blues, Jazz, Folk, American Songbook, Americana, World Music and a few originals. While our name implies a connection to Bluegrass music, we love all kinds. Roughly three quarters of our repertoire is other-than Bluegrass.

Over the past 25 years, SloGrass has performed at the Old Vienna Coffeehouse, John Henry's Hammer Coffeehouse, the Vanilla Bean Coffeehouse, the Grassroots Coffeehouse, Rotman's Club Fantastique, Hezekiah Stone's Coffeehouse, First Night Worcester, weddings, professional events, and many New England summer town gazebo concerts.

The SLO was initially inspired by our need to slow the tempos of fiddle tunes, in order to learn to play them. Now the SLO inspires us to think of new meanings. After all, part of the fun … is reaching beyond comfort zones into those breakdown tempos. Pushing the envelope sometimes results in spinning out of control on a curve. So, we aspire to transform fear of crash-burn-and-die, into love of opportunity-for-miraculous-recovery. On a good day, when it all comes together, time seems to SLO down, reminding us of the proverbial "candle-in-a-windless-place".

David also recently suggested that SLO is an acronym Sustainable – Local – Organic.