The Class of 2032 is about to begin a big journey. To kick it off, the Southborough Library is holding an off to school Kindergarten party.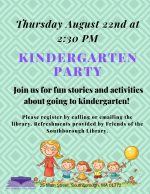 The festivities take place next Thursday, August 22nd, at 2:30 pm in the Eaton Meeting Room, downstairs.
Kids will enjoy fun, relevant stories and make a craft. And of course, it's not a party without treats.
Registration is required and space is limited. So sign up soon. You can call the library at 508-485-5031 or stop by the Children's Room desk.
If you've read this far, I assume you have a child entering Kindergarten.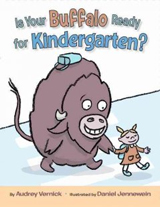 You may be interested in checking out one of the Getting Ready for Kindergarten books I wrote about some summers back as a guest contributor, before I took over the blog.