[Updated (8/20/19 11:44 am) Editor's Note: Given the EEE threat, the time has shifted to run from 2:30 – 5:30 pm. That means no fireworks. Everything else will remain the same!]
It's less than ten days until the big end of the summer bash. Southborough Summer Nights will be on Saturday, August 24th. (Or the next day if the weather doesn't cooperate.)
As usual, the festivities kick off at 5:00 pm and end with the big annual fireworks display after sunset.
For many, a big draw is the multitude of food trucks and exhibitor giveaways. You can also enjoy a live concert with returning favorites Better Her Than Me.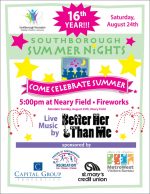 But the biggest draw is all the free activities for kids.
That includes:
Pony rides
Face Painting (by professionals)
Rock Climbing Wall
Inflatable Moon Bounces and obstacle courses
3-hole mini golf
Photo Booth
Ball tosses, frisbee throws and shootouts
Balloon Artist
The ARHS Robotics team will also be on the tennis courts again with their robot demos.
I was also happy to learn that the ALS Ice Bucket Challenge fundraiser added last year will be back. (I'm hoping to share this year's details next week. Stay tuned.)
Here are some pictures from last year, a mix of mine and contributions from Southborough Recreation. (Click on photos for credits)

Somehow, I didn't capture any of the face painting last year. That is always a huge hit. I did find an example on Facebook from Baypath Humane Society's post. (How many pups are in this pic?)
I will be sharing parking details closer to the event. But I'm told that it should be the same as last year.
Want to help make this year's event another success?
Earlier this summer, I shared a request by Rec for volunteers to assist with setup. I'd be surprised if they couldn't still use more help. If you'd like to lend a hand, click here for more details.