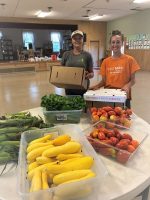 Recently, the Southborough Food Pantry shared its appreciation on Facebook for more generous donations. (Click images to enlarge.)

The first thanks was for another donation of fresh produce this week:
So grateful to Chesnut Hill Farm for supplying fresh veggies every year. The produce is such a big hit with all the clients. Thank you so much!
Another big thanks was for a donation by the Southborough Rotary Club. Ten days ago, the Rotary posted:
Time to drop off some supplies to the Southborough Food Pantry! About 6 weeks ago the Pantry advised they would need paper towels around now. Club was happy to help them restock their shelves with that and some other key items. Various pantries in the area notice a discernible decrease and shift in donation patterns during the summer time when people are on vacation or out of town. The Southborough Pantry's "wish" list changes depending upon recent donations received and they keep current needed items list posted on their website.