St. Mark's Episcopal Church is again inviting the entire community to join them for the Annual Blessing of the Animals.
It will be held this Sunday, October 6th at 5:00 pm.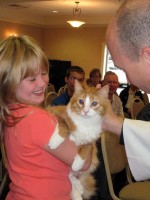 In a past year, the church described:
St. Mark's Episcopal Church will offer its annual Blessings of the Animals St. Francis event. This short outdoor service will allow any community members (whether or not they attend St. Mark's or any other church) to come and have their animals receive a blessing from Father Phil LaBelle.

Bring your cats, dogs, bunnies and other pets for this service. The event will be conducted outside in the grassy square between the church and the education building.

Questions, please call 508-481-1917, the church office.