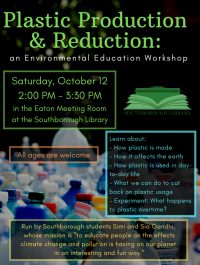 Earlier this week, I posted about a student-led workshop at the Southborough Library this Saturday on Entrepreuneurship. The Library is hosting another student-led workshop one week later. This one focuses on the environment.
Southborough sisters Simi and Sia Ghandi are seeking to:
educate people on the effects climate change and pollution is having on our planet in an interesting and fun way.
On Saturday, October 12th at 2:30, the middle schoolers will address Plastic Production & Reduction Plastic Reduction. The Enviornmental Education Workshop will cover:
How plastic is made,
How it affects the earth,
How plastic is used in day-to-day life
What we can do to cut back on plastic usage
All ages are welcome with no RSVP required. The talk will take place in the Eaton Meeting Room downstairs.