Southborough's annual day for residents to rid themselves of "Household Hazardous Waste" is a week from Saturday.
On October 19th from 9:00 am – noon, bring your related items to the Public Works Garage down the hill from the Transfer Station. (Not the hopper!)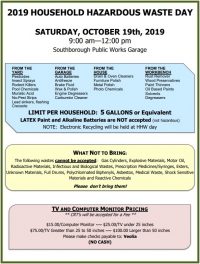 While disposing of the specified items is free, the event is limited to those who have current, valid Transfer Station permit stickers. (If you haven't gotten yours for this year yet, you better act soon. Click here for details.)
The disposal day is combined with an electronic recycling event for TVs and computer monitors. That isn't free. Scroll down for fee details (or click on flyer right.)
Not every hazardous item is welcome under the Household Hazardous Waste day. The Town will not accept:
Gas Cylinders, Explosive Materials, Motor Oil, Radioactive Materials, Infectious and Biological Wastes, Prescription Medicines/Syringes, Esters, Unknown Materials, Full Drums, Polychlorinated Biphenyls, Asbestos, Medical Waste, Shock Sensitive Materials and Reactive Chemicals
Also not to be brought to the garage – Latex paint and Alkaline batteries. That's because they are on the non-hazardous list of materials accepted as regular waste you can toss in the hopper. (Though, according to Transfer Station rules, the latex paint must be dry first. The state recommends drying wet paint by adding kitty litter or sand to the can. It also asks for the can lids to be removed before disposing.)
For a reminder of what items are allowed during normal Transfer Station hours, click here for the 2019 rules. For more details on recycling dos and don'ts click here.
As for the hazardous items you can dispose of that day, even they have quantity limits.
The flyer states that each household can bring 5 Gallons (or equivalent) of the following items to be disposed of:
From the Yard:
Pesticides
Insect Sprays
Rodent Killers
Pool Chemicals
Muriatic Acid
No-Pest Strips
Lead sinkers, flashing Creosote
From the Garage:
Auto Batteries
Antifreeze
Brake Fluid
Wax & Polish
Engine Degreasers
Carburetor Cleaner
From the Workbench:
Rust Remover
Wood Preservatives
Paint Thinners
Oil Based Paints
Solvents
Degreasers
From the House:
Drain & Oven Cleaners
Furniture Polish
Metal Polish
Photo Chemicals
Electronic Recycling
Below are the details on the electronic recycling you can do at the same time and place:
CRT's will be accepted for a Fee. Checks must be made out as payable to Veolia. (No cash or credit card payments allowed.)
$15/Computer Monitor
$25/TV under 25 inches
$75/TV Greater than 25 to 50 inches
$100/TV Larger than 50 inches