While the main gathering spot for Heritage Day is St. Mark's field, every year there are at least a few satellite events. This year, the Community House is hosting one indoors – a special Arts & Crafts Sale.
The venue will house local vendors selling their crafted "Beautiful Jewelry, Paintings, Knit Goods, Note Cards and more".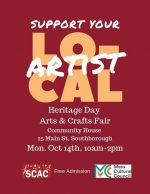 The event is sponsored by the Southborough Cultural Arts Council thanks to a festival grant from Mass Cultural Arts Councils. A flyer encourages the public to "Support Your Local Artist".
So, who are those artists and what are they selling? I checked in with SCAC for the list:
Pebble Art by Malini Mohankumar
Pottery by Judy Badavas
Knitting and Notecards by Tina Dobberpuhl
Painting by Katie Dobberpuhl
Jewelry by Snezana – Zana Knezevic (Silverzest)
Jewelry by Christina Lamb (Strung)
Upcycled Furniture by Rebecca Spezzano
Family Photo Sessions by Chelsea Bradway
Painting by Patrick Steele
Signs by Kristen Schartner
Crochet Pumpkins by Tim
Music Lessons by Morgan Scott
The event will run from 10:00 am – 2:00 pm on Monday, October 14th at 28 Main Street – across the street from the main field. Admission is free.
To draw over more attendees, live music will be played on the Community House porch from noon to 2:00 pm. The popular duo "A Good Time" performs a "blend of acoustic pop rock with country and hip hop influences." (You can sample their music on their YouTube channel.)
Updated (10/11/19 4:35 pm): I accidentally listed the address as 25 Main Street (which is the Library). The Community House is kitty corner from the Library at 28 Main St.