The Algonquin Parent Teacher Organization asked to share their October news with Southborough readers. Their biggest news is their calls for financial and volunteer support. They are also asking people to save the dates for an upcoming meeting and fundraiser. Plus, they've expanded their social media presence.
Here are more details:
Drive for Dollars through October 22nd
The APTO writes that they are in a "CRITICAL SITUATION which requires immediate action"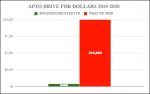 The organization has posted a chart showing that they've only raised $400 towards their $10,000 goal. They are urgently seeking donations by October 22nd. So, what are funds used for?
The Algonquin PTO helps book yearly informative speakers, awards scholarships, holds safe, student socials & funds new initiatives.
You can donate here.
Call for school volunteer monitors
The APTO shared that the school is seeking volunteers. Unlike the recent call for help from Finn School, it looks like volunteers won't be helping with academics. The focus here is for monitors.
Currently, the October signup sheet only lists shifts for montioring hallways, but the message indicates that going forward they may also be seeking volunteers for other duties:
FACULTY URGES PARENTS TO GO BACK TO SCHOOL!!!!

Don't worry! No homework will be assigned!

Ever miss those days when your kids wanted you to help in school? Ever wish you could be more a part of their high school community? Well you can!!!!

Our faculty needs our help. Please consider volunteering for non teaching duties in the school including but not limited to hallway and cafeteria monitoring. ALL VOLUNTEERS MUST HAVE A CURRENT CORI ON FILE. Please check in with main office. It takes 2-3 days to process. Follow the link above to sign up.
To sign up, click here.
Save the Dates
October APTO Meeting – October 22nd from 6:30 – 800 pm in Room D109 (Across from ARHS Library)
Next restaurant fundraiser – Monday, October 28th, Chipotle in Marlborough from 4:00 – 8:00 pm.
Social Media
While you can find information from the APTO on its website, they also encourage parents and students to follow them on social media.
The APTO added an Instagram account this fall. You can now follow them at gonkapto.
That's in addition to the following accounts:
Facebook – www.facebook.com/algonquinapto
Twitter – www.twitter.com/aptoarhs