Last fall, the Southorough Library was unable to hold Halloween festivities in the Children's room due to a flood. Fay School stepped in, offering to host the Library's party. It was apparently a smashing success. The two organizations are teaming up for a repeat celebration this month.
The event will also cap off Fay School's Farmer's Market series. The market, which had been open weekly, will skip this weekend. The final market takes place on Saturday, October 26. As usual, the market will be open from 10:00 am – 1:00 pm. (Click here for more on the series.)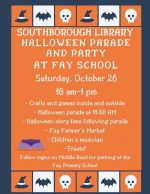 The Library and Fay School are promoting that the Halloween Party will feature:
Crafts and games inside and outside
Halloween parade at 11:00 am
A special story time at the end of the parade
A children's musician
Treats
Face painting
The event is rain or shine. (Last year, weather drove the parade indoors with a party inside the Primary School. Let's hope for better weather this year!)
If you're kids are excited to keep their costumes on after the party, they can march again in the Southborough Firefighter's Association annual Halloween Parade at 4:00 pm that afternoon.
Updated (10/18/19 11:54 am): An email from Fay School added detail that crafts and face painting will take place throughout the duration of the event.