The Southborough Library has quite a few events coming up this fall to keep preschoolers entertained and engaged in learning. If you have little ones, you'll want to make sure these free events in October and November are in your calendar.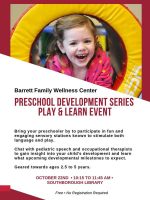 Preschool Development Series – Play & Learn
Tuesday, October 22, 10:15 am – 11:45 am
The Southborough Library is pleased to hose the Barrett Family Wellness Center Preschool Development Series Play & Learn Event! Preschoolers can participate in fun and engaging sensory stations and parents can chat with pediatric speech and occupational therapists to learn about developmental milestones. This event is geared for children ages 2.5 to 5 years old and is free (no registration required).
Young Scientists
Limited – pre-registration required
Fridays, November 1st – December 6th, 11:00 am – 12:00 pm (no class on Nov. 29)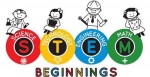 Join us for a FREE six-week enrichment series facilitated by STEM Beginnings. Children, ages 3-5, with a parent/caregiver will learn STEM (Science, Technology, Engineering and Math) concepts through hands-on activities, story time, challenges and experiments. Registration is required (please call at 508-485-5031 or visit the library). Class size is limited to 12 children and parents/caregivers are encouraged to help their child and join the fun! This event is sponsored by the YMCA Family & Community Partnership, a grant program funded by the MA Dept. of Early Education and Care and administered by the YMCA of Central Massachusetts (visit www.theyfcp.org and www.stembeginnings.com).

SkyRise Theater Presents "Scaredy Squirrel"
Pre-registration required
Tuesday, November 5, 3:00 pm – 4:00 pm
Southborough Library is pleased to partner with SkyRise Theater for a fun event where children ages 3.5-8 years old can be part of the story together! Please register at the Children's Room desk or call the library at 508-485-5031.
Baby and Toddler Time
Thursdays 11:00 am – 11:30 am every Thursday (except Nov. 28 and Dec. 26)
This story time is for children age 0-2 years and their parents or caregivers. Each session will include puppets, stories, and music. Drop-in, no registration required.

Preschool Story Time
most Mondays, Tuesdays and Wednesdays – 10:30 am – 11:15 am
This story time is for children ages 2-5 years old and their parents or caregivers. Each week will feature several stories based on a theme and a related craft. Drop-in, no registration required.
The following dates are scheduled through the remainder of the year:
Monday, October 21
Monday, November 4
Tuesday, November 5
Wednesday, November 6
Tuesday, November 12
Wednesday, November 13
Monday, November 18
Tuesday, November 19
Wednesday, November 20
Monday, November 25
Tuesday, November 26
Wednesday, November 27
Monday, December 2
Tuesday, December 3
Wednesday, December 4
Monday, December 9
Tuesday, December 10
Wednesday, December 11
Monday, December 16
The following events are also appropriate for some preschoolers, but not exclusively for that age group:
Halloween Parade & Party!
Saturday, October 26, 10:00 am – 1:00 pm
The Southborough Library and Fay School will host a joint Halloween Parade and Party at the Fay School located on Middle Road!
For more details, see dedicated post.
Legos at the Library
Thursday, November 7, 3:45 pm – 5:00 pm
A favorite at the library! Kids can show off their creativity and make lego creations to display at the library! Parents and caregivers must stay with children. This activity is recommended for children ages 4 and up. It is held in the Eaton Meeting Room