The varsity sports schedule is a bit light this week as the regular season winds down and most post season tournaments have yet to start. One Algonquin athlete has already competed in sectionals.
Jacob Cashin was the sole member of the ARHS Golf Team to qualify to play in last Monday's Central MA Division 1 tournament. He scored 80, tying him for 14th place out of 54. (You can find photos of the tourney in the Telegram.)
According to a Wicked Local post I missed earlier this month, his full team won its Mid Wach A League tournament. The boys triumphed over regular season league champ Shrewsbury. Unfortunately, the Gonk team missed qualifying for sectionals by 1 point.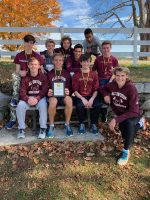 Boys Cross Country just won its Mid Wach A League Meet on Saturday, while the Girls placed third. You can read more about the teams' performances in the Telegram. Both teams will run a regular season meet against Westborough tomorrow.
Both ARHS Soccer teams play their last regular season game at Wachusett tomorrow. The unbeaten Girls scored nothing but wins last week, extending their streak to 7 and improving their record to 14-0-3. The barely-beaten boys added a tie and a win, bringing their record to 10-1-6.
ARHS Girls Volleyball ended its regular season by beating Wachusett last Friday, 30-0. Wachusett is where Algonquin Football took another hit last Friday, losing 20-40. (You can find the Telegram's coverage here and photos here.)
ARHS Field Hockey is slated to start Division 1 sectionals this week. The 2nd seed girls earned a BYE on the First Round and have pretty good odds on making it to the Semi-Finals. In the Quarter Finals this Friday, they'll play either 10th seed Tantasqua or 7th seed Marlborough which they beat 3-0 just last week (click here for the Harbinger's photos).
If any more post-season games pop up for this week/weekend as other brackets are posted, I'll share the news later this week.
Now, here are the ARHS varsity games on tap for the week.
(To find a complete schedule of Algonquin sports, including JV, freshmen, and unified match ups, click here. Follow these links for the Assabet sports schedule and the St. Mark's sports schedule.)
Tuesday, October 29, 2019
4:00 pm – ARHS Girls Cross Country Meet vs. Westborough High School @ Westborough High School
4:00 pm – ARHS Boys Cross Country Meet vs. Westborough High School @ Veteran's Freedom Park
4:00 pm – ARHS Girls Soccer vs. Wachusett Regional @ Wachusett Reg. High School (Lane Field)
4:00 pm – ARHS Boys Soccer vs. Wachusett Regional @ Algonquin ( stadium field)
Friday, November 1, 2019
2:30 pm – ARHS Field Hockey – Central Division 1 Qtr Finals vs TBA @ NE Baseball Complex
7:00 pm – ARHS Football vs. Leominster @ Doyle Field
Saturday, November 2, 2019
2:30 pm – ARHS Cheerleading – Shepherd Hill 2019 Fall Invitational @ Shepherd Hill Regional High School
Have a photo of your favorite team in action to share? Email mysouthborough@gmail.com.