It's the time of year when I start getting bombarded with flyers and press releases reminding me that Christmas is coming, even while we're still getting ready for Thanksgiving. This year, the Southborough Gardeners are offering help to make it easier to prepare for both holidays.
The Gardeners club is holding its big annual fundraiser. The popular Guest Day event will spotlight "Holiday Transitions".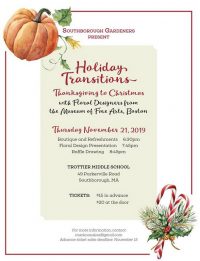 Three floral designers from the Museum of Fine Arts will demonstrate making "many impressive floral designs" to "usher in the upcoming holiday season".
As at past events, some lucky winners will get to take the designs home. Guests will also enjoy refreshments. And it's always touted as a chance to get in some early holiday shopping.
There is one big change from past years. Rather than at it's usual morning tea time, Guest Day will take place at night. The event will be held at Trottier Middle School on Thursday, November 21st, beginning at 6:30 pm.
The schedule that night is:
Boutique & Refreshments 6:30 p.m.
Floral Design Presentation 7:45 p.m.
Raffle Drawing 8:45 p.m.
You can get the tickets at an advance discount rate if you purchase within the next 10 days. Tickets are $15 through November 15th and $20 at the door. The funds support the group's support of town beautification and education.
For more information, please contact Joyce Macknauskas at macknauskas@gmail.com.