This Sunday, another presentation on the importance of pollinators will be held in town. This time, the presentation will be held at Cordaville Hall.
The Metrowest Conservation Alliance and the Native Plant Task Force have teamed up to host biologist Dr. Robert Gegear. He'll present on "the intricate and interdependent relationship between pollinators and plant." He'll also talk about what we can do to protect pollinators.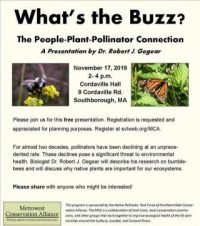 Gegear has been conducting research at Breakneck Hill Conservation Land since 2015. This latest talk is promoted under the title "What's the Buzz: he People-Plant-Pollinator Connection".
The Facebook event page promotes :
For almost two decades, pollinators have been declining at an unprecedented rate. These declines pose a significant threat to environmental health. Biologist Dr. Robert J. Gegear will describe his research on bumblebees and will discuss why native plants are important for our ecosystems.
If you plan to attend, please RSVP here.