The community is invited to a football themed night of fun at Apex to support two causes. Funds raised on November 25th will go to the Algonquin Football Boosters and the Doug Flutie Jr Foundation for Autism.
The event is hosted by an Algonquin student combining his love for football and his desire to support a foundation that has supported him. Northborough's Andrew Roberts' blog Boston Sports Mania is putting on the event.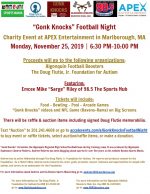 The fundraiser will take place the Monday before Thanksgiving from 6:30 – 10:00 pm. $25/$35 tickets will cover bowling, billiards, arcade games, and more. There will also be a raffle and auction to raise additional funds.
The Facebook page promotes:
Join us in support of two great organizations: The Doug Flutie Jr Foundation for Autism and The Algonquin Tomahawk Football Team! Click here to purchase tickets to this event https://www.accelevents.com/e/GonkKnocksFootballNight

Tickets will include a private room with food, 8 lanes of bowling and shoes, pool table, 30-minute arcade game cards, "Gonk Knocks" videos*, and an NFL Game (Ravens-Rams) on Big Screens. There will also be raffle & auction items including signed Doug Flutie memorabilia and, of course, celebrity photo ops!

"Gonk Knocks" chronicles the Algonquin Regional High School Football Team during training camp. It was produced by Algonquin Sophomore and Flutie Foundation Ambassador, Andrew Roberts.

Tickets are $25 student / $35 adult – advanced purchase and raffle/auction items available here: https://www.accelevents.com/e/GonkKnocksFootballNight

To get started you can also simply text "Auction" to 201.241.4608 and manage all activities by your mobile before and during the event.

UPDATE: A limited number of discounted tickets have been added for those that commit to volunteer for one hour at the event. These tickets are $15 and will include all of the features of a regular priced ticket. Go to "Buy Tickets" to see this additional option.