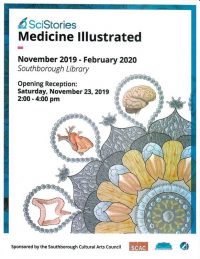 The Southborough Library is displaying more art by a local artist. The upcoming exhibition features the work of a Southborough resident who specializes in scientific illustrations.
Resident Sigrid Knemeyer is the founder of SciStories "a creative agency offering art and design services to medical and science academic research laboratories around the world." Examples of her work will be on display on the Library's main floor and in the downstairs Eaton Meeting Room.
Southborough Cultural Arts is sponsoring an Opening Reception for the exhibit. It will take place from 2:00 – 3:00 pm on Saturday, November 23rd.
The Library promotes:
Scientific illustration is an emerging, specialized field that takes abstract scientific discoveries and visualizes them in evocative and accurate ways. Southborough resident Sigrid Knemeyer is a luminary in this field, having created cover art for publications such as Nature, Science, and Cell. Join us for the Opening Reception. Sigrid will be available to share her experience and knowledge of the industry, and her work will remain on display through February.
The main exhibit will be enhanced by a related display. SCAC's display cabinet will showcase "the history of medical illustration and traditional tools of the trade". (The glass cabinet is at the top of the ramp downstairs.)
Updated (2/26/20 1:46 pm): Fixed misspelling of Knemeyer's name in the 2nd paragraph.