This Sunday, St. Mark's Episcopal Church is co-hosting another potluck with Neighbors for Peace. It's the annual pre-Thanksgiving celebration.
Prior to an interfaith service, attendees can gather to share a community Thanksgiving meal. They'll provide the Turkey, participants can bring whatever dish they see fit to share.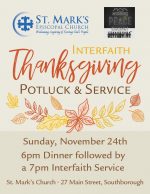 Here is the invitation from St. Mark's:
Join Southborough Neighbors for Peace and St. Mark's Episcopal Church for an Interfaith Thanksgiving Potluck and Service on Sunday, November 24 at St. Mark's Parish Hall and Church. The meal begins at 6pm with turkey provided. Bring a dish of your choice to share—side, salad, dessert—and get to know your neighbors!

At 7pm, an Interfaith Thanksgiving Service will be held. It will include readings and prayers from varied faith traditions, a chance to support the Food Pantry—non-perishable foods are welcome— and sing Thanksgiving hymns. All ages are welcome and encouraged to attend.