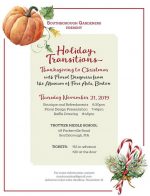 Yesterday, in my events of the week, there was an unfortunate error that included the hours from last year's Southborough Gardeners Guest Day.
To make sure there isn't confusion, I'm running this post to remind about this year's big change. The event will begin 6:30 pm at night this Thursday.
For a reminder of the details, see the original post here.