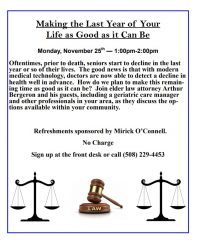 The Southborough Senior Center is hosting another session by elder law attorney Arthur Bergeron. This time he's advising on the silver lining of a decidedly grey cloud – how to make the best of the time you have left when you know that time is limited.
The presentation will take place on Monday, November 25th at 1:00 pm.
The flyer explains:
Often times, prior to death, seniors start to decline in the last year or so of their lives. The good news is that with modern medical technology, doctors are now able to detect a decline inhealth well in advance. How do we plan to make this remaining time as good as it can be? Join elder law attorney Arthur Bergeron and his guests, including a geriatric care manager and other professionals in your area, as they discuss the options available within your community.
The event is free to attend. Sign up by calling (508) 229-4453. Refreshments are sponsored by Mirick O'Connell.