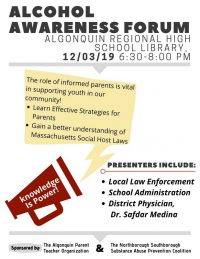 [Editor's Note: Due to the cancellation of school for snow, the event is again being postponed. Stay tuned for a new date.]
The Tuesday after Thanksgiving, Algonquin will host a forum on Alcohol Awareness.* The target audience is parents.
The flyer pitches:
Knowledge is Power:

The role of informed parents is vital in supporting youth in our community!

Learn Effective Strategies for Parents
Gain a better understanding of Massachusetts Social Host Laws
Presenters at the forum will include local law enforcement, school administrators and the district's physician, Southborough resident Dr. Safdar Medina.
The event is sponsored by the APTO (Algonquin Parent Teacher Organization) and the Northborough-Southborough Substance Abuse Prevention Coalition. It will be held in Algonquin's Library from 6:30 – 8:00 pm on Tuesday, December 3rd.
The topic of Social Host Laws has been in the local news lately. Since fall 2017, Southborough Police have publicized pressing charges against hosts of four underage drinking parties. In three incidents, parents were charged. In one, an 18 year old was charged for furnishing alcohol to minors.
You can find more on the SPD's policy on handling underage drinking here. You can find more on the state's Social Host Laws here.
*(The event was initially scheduled for this past Tuesday. On Monday, the APTO announced it was being rescheduled to allow parents to attend Girls Soccer's State Semi-Finals. The new date is now confirmed.)
Updated (12/3/19 10:53 am): The event had to be cancelled for tonight due to school being cancelled. Stay tuned for a new date.