The Algonquin Parents & Teacher Organization is promoting its latest news and events. They asked me to help them spread the word.
APTO Fundraisers
Last month, the organization held a Drive for Dollars. They report that they successfully collected $1,730. They thank everyone who helped.
It's worth noting that they had a goal for the year of $10K. So, they will continue to hold fundraisers, including the following two.
The first is one you'll want to follow up on soon if you plan to do any amazon shopping on Black Friday or Cyber Monday.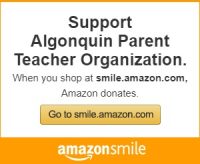 AmazonSmile
Some of you may be aware that amazon.com offers an option allowing you to donate 0.5% of all of your purchases to a cause of your choice. (The donation doesn't impact the prices you pay for your orders.) The APTO is asking you to sign up here and designate the Algonquin Parent Teacher Organization as your charity of choice.
Restaurant Fundraiser at Panera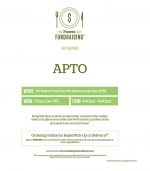 The December fundraiser is at Panera in Marlborough on December 5th from 4:00-8:00pm.
For 20% of your order to be donated back to the APTO show the flyer right. (You can print it or show it on your phone.)
If you are pre-ordering your meal online or through an app, be sure to reference promo code PRFUND to ensure the APTO gets its cut.
Getting involved
Volunteer at school – The APTO is still helping recruit adult volunteers. To sign up for upcoming slots, click here.
Attend the next APTO meeting – The APTO meets on Tuesday, December 3rd, 6:30-8:00pm at Algonquin in the Library/Rm D109. The meeting will begin with the previously advertised Alcohol Awareness Forum. Click here for more details.