If you're heading out to do some Black Friday shopping this week, you may want to add an item or two to your list.
The Southborough Firefighter Department asked me to advertise it's annual holiday collection drive. The SFD is collecting unwrapped gifts for Project Just Because based out of Hopkinton.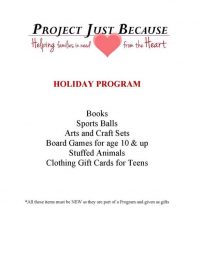 Anyone who wants to support the drive can drop off new, unwrapped items at the new station at 32 Cordaville Road.
The flyer lists the most popular items requested as:
Books
Sports Balls
Arts & Craft Sets
Board Games for Ages 10+
Clothing Gift Cards for Teens
The collection will be held through Friday, December 13th.