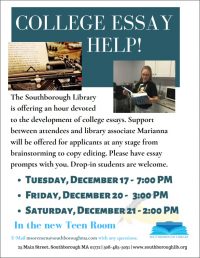 The Southborough Library is offering help to high school students working on their applications. Specifically, they'll be offering sessions to offer guidance on admissions essays:
The college application process is upon us and can be stressful for many people. Being prepared and supported can make all the difference!

That is why the Southborough Library is excited to offer an hour devoted to the development of college application essays throughout December. Please have essay prompts with you-we welcome essays at any stage. Drop-in students are welcome.
The sessions will be run by Library Associate Marianna Sorensen. If you have questions, you can email her at msorensen@southboroughma.com.
The Sessions take place in the downstairs Teen Room starting next week:
Tuesday, December 17 at 7:00 PM
Friday, December 20 at 3:00 PM
Saturday, December 21 at 2:00 PM
Updated (12/12/19 10:05 am): I wondered about what expertise the Library could offer, so I followed up. Marianna explained that her knowledge in assisting students with writing assignments and college applications comes from years of experience in private tutoring and professional writing and editing roles.