Last week, I posted news of local community chorus concerts this season. I forgot to announce the boroughs' symphonic concert coming up this weekend.
The Interboro Community Band's winter concert will include works from the band's repertoire as well as a number of holiday season favorites.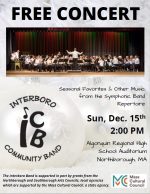 The concert is this Sunday, December 15th at 2:00 pm. It will take place on the Algonquin school stage again at 79 Bartlett St, Northborough.
The community is invited and, as always, admission is free.
Snacks, cider and baked goods will be available at intermission and contributions are welcome to support the self-funded organization.
The community ensemble was first formed in 1992 by musicians from the surrounding boroughs under the direction of the late ARHS music teacher Dennis Wrenn.
It was continued as a program of the Southborough Recreation Department. But, more recently, the ICB became totally self-funded. Last year, the symphonic band promoted that it had grown to nearly 50 talented amateur musicians. This year, they shared:
The band has grown significantly in both size and quality over the past few years, and is proud to have received grants from both the Southborough and Northborough Cultural Councils in 2019.