Looks like the South Union Building is going to be hopping next month. There's another series about to be launched at the venue. This one will give teens the chance to express themselves through music or poetry. It will also offer entertainment for peers not interested in holding a mic.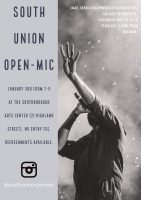 The first "South Union Open-Mic" will take place on Friday, January 3rd from 7:00 – 9:00 pm. The event is geared towards 14-18 year olds. Teens can use it to showcase their music and/or poetry.
If you would like to perform, you need to first email Mary.piekarz@mindspring.com or Sophia.brady@worcesteracademy.org. There will be a maximum of 10 performers each night. Each is welcome to perform up to 3 songs/poem. (Note: No expletives are allowed.)
If you would like to attend – admission is free as are refreshments. But, you are asked to reserve seats in advance here.
The series is organized by Southborough Girl Scout, senior Sophia Brady. It is party of her Girl Scout Gold Award project.
No future dates beyond the 3rd have been announced yet. But, you can follow Brady's social media posts about the series on instagram.