If you're going to be out doing some holiday shopping tonight, you might want to swing by the Northborough Mooyah for dinner – and some gifts.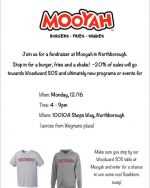 Woodward SOS is using the venue to raise some moola.
Tonight, Monday, December 16th's fundraiser is from 4:00 – 9:00 pm. If you reference the association when you order, a 20% of the proceeds will be donated to the group.
In turn, Woodward chapter of the Southborough Organization for Schools will support programs and resources for the 2nd-3rd grade Southborough elementary school.
Volunteers will also be selling some "Southborough Swag" from a table in the fast food joint.
The restaurant is located at 10010 Shops Way in Northborough.
As you can tell from the pic above, the restaurant's focus is burgers, fries and shakes. But they do also offer a "loaded salad" for those of you looking for a healthier option. (I assume you can "hold" some of the ingredients if it's too loaded for your liking.)
You can check out the menu and other details here. I just don't recommend using the website or your phone to place your order. (Past Mooyah fundraiser flyers have stated, "Online and call-ahead orders do not apply to fundraiser.")