The Southborough Library is hosting another program for young kids to read to dogs this winter. The morning program "Read with Furry Friends" will take place on four Saturdays, starting this week.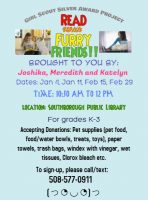 The events are opportunities for Kindergarteners through 3rd graders to have fun while sharpening their reading skills.
The offering is organized by three Girl Scouts (Joshika, Meredith, and Katelyn) as part of a Silver Award project. The girls will also be accepting donations for the therapy dogs association working with them – Tails Of Joy.
Donations encouraged include Pet supplies (pet food, food/water bowls, treats, toys), paper towels, trash bags, windex with vinegar, wet tissues, and Clorox bleach.
The events will take place from 10:30 am – noon on the following four Saturdays:
January 4
January 11
February 15
February 29
To register for a slot during those windows, call or text 508-577-0911.

If weekends don't work for you, you'll want to note that the Library will be continuing with its regular "Tales & Tails" program later this month.
The program takes place on a Wednesday evening and Thursday afternoon (usually the 4th week of the month).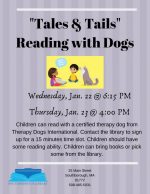 Kids with some reading ability can be signed up for a 15 minute slot. They can bring books or select from the Library's collection.
The next two sessions are Wednesday, January 22nd from 6:15 – 7:15 pm and Thursday, January 23rd from 4:00 – 5:00 pm.
To sign up for Tales & Tails, call the Library at 508-485-5031 or email kivers@southboroughma.com.