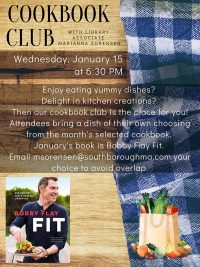 If one of your resolutions this year is to eat healthier, you may want to join this month's meeting of the Southborough Library Cookbook Club.
If you aren't familiar with the free, monthly club. . . Each month, participants whip up a recipe from the selected cookbook(s). Then they bring it to the Library to enjoy a potluck meal.
There is no commitment to participate each month – new members are always welcome.
But, to avoid overlap, participants are encouraged to reach out in advance. You can email your recipe to the Library's coordinator (and participant) Marianna Sorenson at msorensen@southboroughma.com.
This month, the group's selection is fittingly Bobby Flay Fit: 200 recipes for a healthy lifestyle by Bobby Flay.
Of course, since it is a Library program, no one expects you to buy the book to try out one of its recipes. You can click here to reserve a copy. (In this case, since the meeting is a week from tonight, you may want to reach out to the Library to see if they have any extra copies on hand. If not, I see that there are some recipes that you can view under Amazon's "Look Inside" preview images.)
The group will meet to share the yum on Wednesday, January 15th at 6:30 pm.