It's the time of year when organizers for spring sports are trying to get their ducks in a row. Unfortunately for Softball, it seems there may have been a rumor complicating that.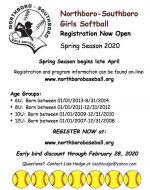 Earlier this month, Northboro-Southboro Girls Softball's announced registration was open and reminded:
Registration is now open for Spring Softball!!!! Go to the registration tab at www.northborobaseball.org. . .

It is VERY important to register on time to determine appropriate number of teams, divisions and game schedules.
Help from additional adult volunteers is needed and always welcome.
This week, organizers are seeking to debunk a purported rumor that a 12U team couldn't be fielded for Southborough girls this year:
Hello everyone, specifically families from Southborough! I want to stress that our league is for girls from Northborough AND Southborough.

Whenever possible I am happy to put together a team from the same town if we have the numbers. I understand it's easier to have practices in your own town! We have had numerous all Northborough and all Southborough teams the last few years.

I was told today that some people in Southborough heard we weren't able to field a 12u team for Southborough and went to another town to register. As we just opened registration we haven't even started to form teams. So this is NOT TRUE.

If you are from Southborough PLEASE consider joining us. The whole point of our two towns together is because we will all play at the high school together. I am also working closely with Southborough Recreation to secure fields for the girls.

PLEASE email me @ lisabhodge@yahoo.com if you have any questions.
Of course, 12U is just one of several age groups in the league. Here is the information on this year's divisions:
6u Division is for girls born between Jan 1, 2013 to August 31, 2014

8u Division is for girls born between Jan 1, 2011 to Dec 31, 2012

10u Division is for girls born between Jan 1, 2009 to Dec 31, 2010

12u Division is for girls born between Jan 1, 2007 to Dec 31, 2008
As usual, the association is promoting early bird registration. Discounted rates apply through February 28th.
Once again, the league's pitch includes the promise that the late April through June schedule is coordinated to "avoid conflicts with spring soccer, dance recitals, and Girl Scout town events."
You can find a direct link to their website here. It touts the program's benefits for girls:
The Northborough Southborough Softball Program is dedicated to creating a positive sporting and social environment where the ideals of good sportsmanship, teamwork, honesty and fair play are core, with secondary importance placed on winning. Our goal is for each player to have fun while gaining a rewarding softball experience and developing skills in fast-pitch softball.