Algonquin's Girls Lacrosse team will be holding a special clinic for youth players this winter. Registration is open now with a discounted rate through January 24th.
The weekly clinic will run for four weeks, starting in late February. [Editor's Note: Despite the marketing pitch below, I've been reassured newbies will be welcome. The girls will be divided up by ability.]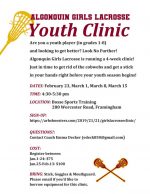 Organizers promote:
Are you a youth player looking to get better? Look No Further!

Algonquin Girls Lacrosse is running a 4 week clinic for Grades 1-8!

Just in time to get rid of the cobwebs and get a stick in your hands right before your youth season begins!
The sessions will run on Sundays, February 23, March 1 March 8, March 15 from 4:30-5:30 pm. They'll be held at the Bosse Sports Training facility in Framingham (280 Worcester Road).
The clinic is a fundraiser for the high school team through the ARHS Boosters.
The cost is $75 if you sign up by the 24th. Registration will still be accepted until February 13th, but $25 more. Click here to register.
Players are encouraged to bring their own stick, goggles & mouthguard. But those who need to can borrow equipment can email the coach.
Any questions can be emailed to Coach Emma Decker at edeck850@gmail.com.
Updated (1/10/20 9:45 am): Looking at the wording in their marketing pitches, I wondered if the clinic was exclusive to experienced players. I reached out and was told that inexperienced players are also welcome. The girls will be divided up by ability. I inserted a note above to clarify. (They also hope to add a "try it out" day for lower grades in March. But those details are still TBA.)