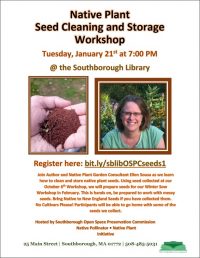 The public is invited to learn about seed cleaning and storage next week.
The hands on workshop is sponsored by the Open Space Preservation Commission. It's one of a series under their Native Pollinatorr • Native Plant Initiative.
The event will take place on Tuesday, Jan. 21st at 7:00 pm in the main level of the Southborough Library. To sign up, click here.
The workshop will be led by author and Native Plant Garden Consultant Ellen Sousa. She'll be using seeds she helped the OSPC collect at the previous workshop held at Breakneck Hill in October. Participants will be able to go home with some of the seeds
You are also welcome to bring your own seeds, as long as they are from plants native to New England. (That means no cultivars are allowed.*)
Stored seeds will be pulled back out next month when they hold their next workshop on winter sowing.
*If you aren't sure if your plant is a cultivar, you can check out Wikepedia's list here.